Industrial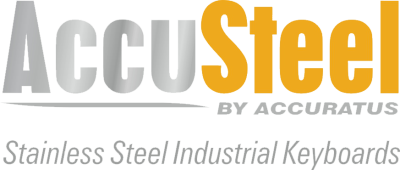 AccuSteel - Stainless Steel Industrial Keyboards
The Accuratus AccuSteel range incorporates high quality IP rated Stainless Steel industrial keyboards with full functionality and a range of options including various key layouts, inbuilt pointers, top/rear mounting and even illuminated.
Stainless steel keyboards, control boards and pinpads are the only choice for rugged and industrial environments. With over 50 different variants available, Ceratech Accuratus are able to find the right product for you. Stainless steel's resistance to corrosion, rust and staining makes this material ideal for high traffic areas and does not require maintenance. Our stainless steel range comes in many different finishes from brushed steel, black carbon steel or even brightly coloured and is available in any language layout.
Please speak to one of our product managers for more information.


With a choice of over 50 different variations including, desktop, trackball, touchpad, illuminated, top/bottom mounting and OEM customerisations, all sealed with IP rating and produced from high quality Stainless Steel.
We will add more details to this category soon, however please contact us for more details.